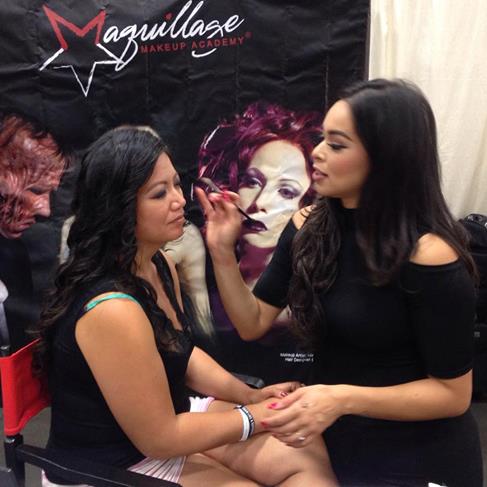 On September 17-18, 2016 Maquillage Makeup Academy had the opportunity to have a booth at the San Diego Ultimate Woman's expo! The Ultimate Woman's Expo is a chance for guests to enjoy free manicures, facials, exciting makeovers, high fashion runway shows, haircuts, amazing spa treatments and massages. Indulge in lots of free samples, gourmet tastings and delicacies.

Maquillage Makeup Academy partnered up with the Monte Vista High school, California Hair Design Academy, as well as the Palomar College Cosmetology Program to offer the attendees of the Woman's Expo to free makeovers and makeup tips. It was a fabulous event and we had many guests stop by of all ages to shop INGLOT and MAQUILLAGE Cosmetics as well as to receive as brand new look! We also had the pleasure of having our guests Monetta Plassmeyer of the 'Stick With Palette' and Leilani Angel of Style Sorbet stop by and assists us at the booth!

We'd like to thank all of those who attended the Woman's Expo and stopped by our booth as well as all of the cosmetology students who assisted us in providing makeup application and the Maquillage team you all helped make our booth a success!

Maquillage Makeup Academy is excited to announce that we have NEW dates for our Global, Professional, and Sunday Makeup Courses!


Global Artistry:
October 11th, 2016 - June 2nd 2017
November 7, 2106 - June 30, 2017
January 30, 2017 - September 1, 2017



Professional Artistry:
October 3, 2016 – July 21, 2017
November 7th, 2016- August 25th, 2017

Sunday Beauty:

September 25,2016 - February 26,2017
October 23rd, 2016 - March 26th, 2017

Make sure to also save the date to our October Open House event where you can meet with our instructors, watch Halloween inspired demos, and get an exclusive discount when you sign up for one of our courses!